Bill de Blasio, mayor of New York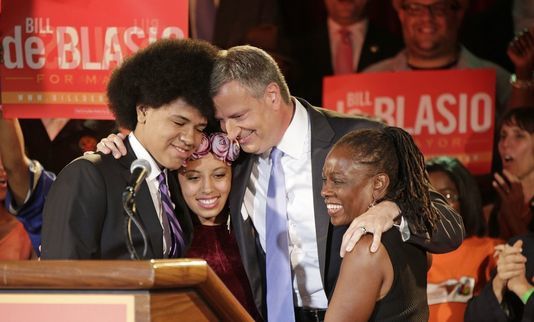 Yesterday, Tuesday November 5th, citizens of New York elected their mayor. The Democrat mayoral candidate, Bill de Blasio, has won against Joe Lhota (with 73.6% of voters against 24%), the Republican mayoral candidate.
For the firs time since 1994 and the terms of Rudolph Giuliani and Micheal Bloomberg, a Democrat becomes mayor of the "Big Apple", first American city by population (8 336 697 inhabitants according to the Census Bureau) and economic power. The most interesting is that de Blasio, former Sandinista activist (supporting the Nicaraguan Revolution in the 80s), is a liberal (meaning in American English, member of the left-wing of the Democratic party. Similar to the left-wing of the French Socialist party for French-speaking persons), and one of his challenges, as future mayor, is to distribute wealth in the city since there are more than 400 000 millionaires from one hand, and on the other hand, 46% of New Yorkers live below or at the poverty line.
Also, this election emphasizes a turning point for American demography since Latinos and Afro-American people, who are more concerned by poverty than the WASP (who on the contrary, accumulate high incomes) have voted massively for de Blasio, who himself symbolizes the idea of melting pot; married with Chirlane McCray, an Afro-American poet with whom he has two children, Chiara and Dante.
Besides, his opponents blamed him using the image of a crossed family, not hesitating to consider him as racist (toward white people). That's quite pathetic in the country of the Ku Kux Klan!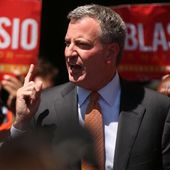 Bill de Blasio: harbinger of a new populist left in America
The overwhelming support of New York City voters for Bill de Blasio is the latest sign of the shift towards a new populist left in America. De Blasio owes his unexpected tailwind to campaigning on ...
http://www.theguardian.com/commentisfree/2013/nov/06/bill-de-blasio-new-populist-left
De Blasio Is Elected New York City Mayor, Exit Polls Show
Bill de Blasio, who transformed himself from a little-known occupant of an obscure office into the fiery voice of New York's disillusionment with a new gilded age, was elected the city's 109th mayor
http://www.nytimes.com/2013/11/06/nyregion/de-blasio-is-elected-new-york-city-mayor.html?pagewanted=all
Bill de Blasio : "L'inégalité est le défi de notre époque"
Le Monde | * Mis à jour le Le démocrate Bill de Blasio a été élu, mardi 5 novembre, 109 e maire de New York en distançant largement son rival du parti républicain, Joe Lhota, selon les sonda...
http://www.lemonde.fr/ameriques/video/2013/11/06/bill-de-blasio-elu-maire-de-new-york_3508872_3222.html
La tâche ardue qui attend Bill de Blasio, élu maire de New York
Le Monde | * Mis à jour le | Par Stéphane Lauer (New York, correspondant) La victoire facile de Bill de Blasio à l''élection municipale de New York ne doit pas faire illusion : la tâche qui at...
http://www.lemonde.fr/ameriques/article/2013/11/06/bill-de-blasio-elu-maire-de-new-york_3508743_3222.html