Afrophobia in South Africa
In a context of massive unemployment and increasing disparities, the migrant workers are taken for target in South Africa, with several deaths these last days.
Kwazulu-Natal, one of the most populated and richest provinces in South Africa, with Durban as regional capital, is in excitement at present. Zulu king of the ethnic group launched a pike on the immigrants, forcing his ethnic fellow countrymen to let off steam on them, making several deaths in particular several deaths, among whom two people of Congolese origin, according to the official statements. The South African president Jacob Zuma, who arises from the ethnic group Zulu, called up to the stop of this violence, which spread in the "rainbow nation", because incidents were raised in Johannesburg, the economic capital of the country.
A scapegoat
In South Africa, the migrant workers come from several countries (the Democratic Republic of the Congo, Zimbabwe, Mozambique, Ethiopia, Burundi, Lesotho, Malawi, Somalia, etc.) and it is not the first time when they are taken to task by South Africans, in particular black majority. Xenophobic incidents had already expressed themselves in the country in 2008, with dozens of deaths, in particular Zimbabweans. But why it returns to the surface maintaining, with Zulu king who shakes the fear of the foreigner, thief of jobs in South Africans, as makes it the National Front in France about the immigrants in the hexagon?
The reason is obvious and a twittos named it: poverty.
Clue for deeper analysis [than afrophobia]: poverty.

— Minna Salami (@MsAfropolitan) 17 Avril 2015
The South African economy is out of strong growth, filled with enormous disparities. The unemployment is massive near(on the side of) Pretoria, with 24,9 % of the working population which is unemployed according to Statistics South Africa, the local statistical institute. This unemployment of mass is even more worrisome when we look at that of 15-24 years, because near half of the working population of this age group is in job search, according to data of the World Bank. Worse, this unemployment increased these last years, to such a point that it is upper his(its) being in 1994, as the African national Congress (ANC) comes to power, with Nelson Mandela as president of South Africa.
A political inaction
The words of Zuma condemning the current violence are certainly full of common sense, but they arrive late, as calls back it Julius Malema, a former of the ANC, who founded his party, the Economic freedom fighters, in gone well disorder all the same. Then the ANC, in the power for 21 years, shows its limits because the commitment of agrarian reform was not strongly pushed by Mandela and his successors, as well as the white minority, holding control levers since the colonization and the apartheid, the rest saved and can barricade in its properties which look like mini-fortresses. Worse still, the social-liberal metamorphosis of the ANC, going in rampart of the mode of capitalist production, urges the power to be able to repress in the blood of the strikes, as that of the minors to Marikana in 2012. This event was partly sanctionned by voters for the last general elections in April 2014, and the Pyrrhic victory for the ANC.
In any case, in spite of demonstrations of support for the migrant workers, as for Durban on Thursday, April 16th, nobody is under cover. Some more South Africans of foreign, especially African origin (to believe that those native of other continents would be more respectable for South Africans). One of my friends briefly told me his point of view on these threatening current events with the following sentence: "We are fighting for our lives here, they are killing us like dogs."
Immigration controls tightened in wake of South Africa's xenophobic attacks
South African President Jacob Zuma on Thursday appealed for calm and for the attacks against immigrants to end. Addressing parliament about the wave of xenophobic violence in Durban, Zuma said he ...
http://www.english.rfi.fr/africa/20150416-immigration-camps-not-solution-stopping-south-africas-xenophobic-attacks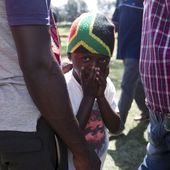 Xenophobia in South Africa: 'They beat my husband with sticks and took everything'
They came to South Africa in search of a better life and, for a while, found the promised land. Fungai Chopo got work as a builder, his wife, Memory, was hired as a maid, and they shared a decent ...
http://www.theguardian.com/world/2015/apr/17/xenophobia-south-africa-brothers-violence-foreigners
Xenophobia too big for one party to resolve: Cope
Cope spokesperson Dennis Bloem said government had failed to heed his party's warnings "over many months that the people of our country were getting restive and restless". "President (Jacob) Zuma ...
http://www.timeslive.co.za/politics/2015/04/17/xenophobia-too-big-for-one-party-to-resolve-cope
Human Rights Commission wants King Goodwill to clarify comments
In a statement released on Friday' the HRC it had noted comments by the Zulu monarch disassociating himself from the actions of people involved in the recent attacks. The commission "is ...
http://www.timeslive.co.za/local/2015/04/18/human-rights-commission-wants-king-goodwill-to-clarify-comments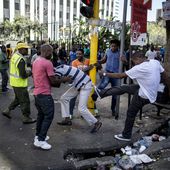 South Africa police fire rubber bullets and teargas on anti-immigrant protest
South African police have fired rubber bullets and teargas to disperse a crowd of anti-immigrant protesters in eastern Johannesburg, a witness has said. About 200 protesters, shouting that they ...
http://www.theguardian.com/world/2015/apr/16/south-africa-police-rubber-bullets-tear-gas-anti-immigrant-protesters
EFF blames ANC for xenophobic violence
The Economic Freedom Fighters (EFF) has called on the townships of Kwazulu-Natal and Gauteng' from Tshwane to Sedibeng' Ekhuruleni to West Rand and in Johannesburg to mobilise against the killi...
http://www.timeslive.co.za/politics/2015/04/18/eff-blames-anc-for-xenophobic-violence