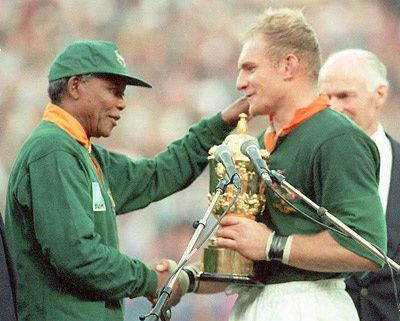 Tonight, Thursday, the 5th of December, Nelson Mandela, born on 1918, passed away.
I have some difficulties to write about him. Maybe (or maybe not) he's now with Patrice Lumumba, Pierre Mulele, Thomas Sankara, Chris Hani, Joe Slovo, Steve Biko, Che Guevara, Karl Marx, Maximilien Robespierre, Walter Sisulu and Oliver Tambo, these two last persons being his faithful friends.
In 1944, he joined tha African national congress (ANC), where he founded the youth league (ANCYL) with Walter Sisulu and Oliver Tambo, who met him at Fort Hare university, where Madiba studied law. Mandela and Tambo settled at Johannesbrug, as attorneys, in 1952, 4 years after the institution of the Apartheid regime. The ANC adopted a strategy of civil desobedience, such as did Ghandi in India, but in 1960, the government banned the ANC. Moreover, the slaughters at Sharpville influenced a radicalisation of the movement with the foundation, in 1961, of Umkhonto we Sizwe, the armed wing of the ANC by Madiba. He got closer of the South African communists, led by Joe Slovo, and also banned, to realize attacks against law enforcement. In 1963, he was arrested, judged and sent to Robben Island for a period of detention till 1990. After the release, he was awarded (with Frederik De Klerk) Peace Nobel prize in 1993. However, he could not be president of South Africa because in 1993, his former comrade, Chris Hani, was more popular than Madiba and because of (or thanks to, it depends on the side we look) his assassination by a far right afrikaner he became the first black president of the South African republic from 1994 to 1999, when he retired from political life.
One special moment, glorified by the movie "Invictus", is the moment where Mandela gave the William Webb Ellis trophy to François Pienaar, captain of the Springboks, the South African rugby team, in 1995, when South Africa, organizing the rugby world cup, won this competition, having beaten the All Blacks (New Zelander rugby team) on final, at Ellis Park.
But this moment, providing a certain unity between South Africans (afrikaners or blacks), could not mask some failures such the promise of an agrarian reform, which was not accomplished during Mandela presidency (1% of the land concerned by the reform). Moreover, he failed to improve the lot of townships, and his inhabitants.
At last, Madiba managed to calm the country, whose the threat of a civil war was present in early 1990s, and also managed to give trust to foreign investors, to rule South Africa as an African power, even if he failed during the negociation between Mobutu and Kabila in Zaire in 1997.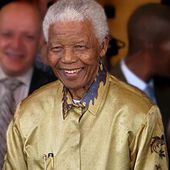 Nelson Mandela - Wikipedia, the free encyclopedia
Mandela was born on 18 July 1918 in the village of Mvezo in Umtatu, then a part of South Africa's Cape Province. Given the forename Rolihlahla, a Xhosa term colloquially meaning "troublemaker", in ...
Umkhonto we Sizwe - Wikipedia, the free encyclopedia
This conclusion was not easily arrived at. It was only when all else had failed, when all channels of peaceful protest had been barred to us, that the decision was made to embark on violent forms of
Pour être informé des derniers articles, inscrivez vous :